Explanation of terms, glossary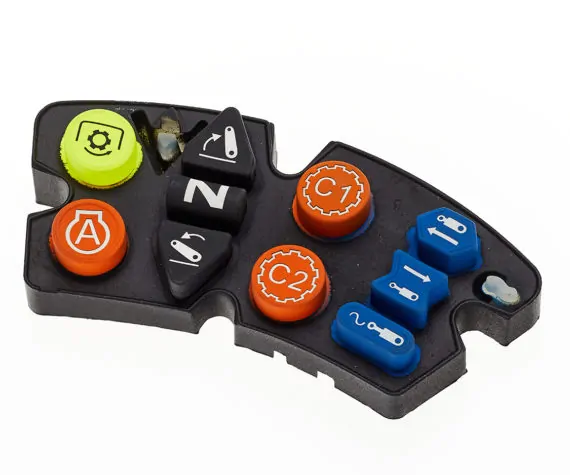 A
Abrasion

Surface wear from contact and motion with other items.

Abrasion Resistance

The ability of a rubber compound to resist abrasion.

ABS

Acrylonitrile-butadiene-styrene. A popular engineering thermoplastic used in electronics, automotive, and consumer industries.

Accelerated Life Test

A test devised to examine the effects of normal service life on a moulding but in an accelerated way.

Accelerator

A chemical additive which speeds up vulcanisation in rubber.

Additive Manufacturing AM

The collective term given to and including 3d printing, because material is added to a part, in the printing process.

Alloy Mould Tool

An Aluminium mould tool is often used to produce prototypes. Less hard wearing than a steel tool but both lower cost and faster to produce so ideal for prototypes. See also Prototypes

Antimicrobial

Antimicrobial additives reduce the build-up of microbes and pathogenic microorganisms. They can also be added to sprays for finishing operations. On items like Nurse call handsets, antimicrobial rubber is ideal, especially when an item is hard to clean.
See also "Biocide Rubber – What? How? Why?"

Antioxidant

An additive added to rubber which inhibits the process of oxidation. When mouldings are going to spend their lives outdoors, often an antioxidant additive is used.
B
Back-Lighting

The practice of shining light up from below a keypad. PCB mounted LEDs shine light up though translucent decals which are usually laser etched on keys.

Bellows

A convoluted rubber bellow can contract and extend offering a seal for an extending shaft. See also: /bellows/

Biocide Rubber

A rubber compounded with a biocide component. Rubber itself can be anti-bacterial, useful for medical applications.
See also "Biocide Rubber – What? How? Why?"

Biocide Additive

An anti-bacterial additive usually for medical industry mouldings, significantly reduces the build-up of bacteria, especially useful if the item is difficult to clean. Anti-bacterial spray coatings also offer further protection against bacteria.
See also "Biocide Rubber – What? How? Why?"

Bolster

A bolster is a tool mount which can hold a range of modular mould tools. A bolster permits various items to be moulded, and can reduce overall tooling costs.

Bumping

Bumping, in compression moulding, is when a tool is gently bumped a few times in the press to help the rubber take the shape of the cavity.

Butyl

Butyl rubber, also known as "butyl", is a synthetic rubber, a copolymer of isobutylene with isoprene. Butyl can be moulded, by transfer, injection, or compression moulding and can be extruded. It is used for gaskets, hoses, and O-rings. See also: /materials/
C
Calender

A series of rollers through which rubber is processed – called calenderisation – in which rubber is mixed and compounded before being output.

Carbon Black

Black material added to rubber as a filler which gives the rubber increased hardness and makes it black in colour.

Carbon Pills

A method of making electrical contact on a keyboard. Conductive Carbon Pills are moulded into the base of buttons on a keypad. When the button is pressed, the Pill touches contacts on the PCB below and makes a circuit.
See Also: /Silicone Rubber Keypads with Carbon Pills/

Cavities

The impressions cut into a mould tool which will produce items each moulding cycle. Normally there will be a number of cavities per tool, small items may have as many as 225 cavities, larger, or more complex items, usually less, some items may only be able to have a single cavity.
See also: /multiple-cavity-tools-for-rubber-mouldings/
And: /keeping the tool hot/

Coefficient of Thermal Expansion

The amount of dimension change per change in temperature, as a fraction of the initial dimension.

Compression Moulding

A cost effective method of moulding in which rubber is placed in a cavity and the tool is closed, under pressure and temperature inside the tool, vulcanisation takes place.
See also: /a-guide-to-compression-and-transfer-moulding/

Compression Set

A permanent compression set (see also permanent set) the rubber does not return to its original size instead remains compressed by a percentage of its original size.

Curing

Another word for vulcanisation.
First discovered by Charles Goodyear in 1839. The irreversible process by which HTV rubber vulcanises under temperature and pressure and sometimes in further post curing at temperature in an oven.
See also: /what-is-vulcanisation-of-rubber/
D
Deflashing

The process of removing unwanted flash from a moulded part. See also tear trim.

Draft

Or Draft Angle, the angle required on plastic moulding tools in order to release and remove rigid plastic parts from a mould. Not of such interest for elastomers, whose flexibility permits easier removal.

Dome Switches

Dome switches are often used in membrane keypads and come in various shapes and sizes. When compressed the dome switch touches contacts on the PCB and makes a circuit. Dome switches offer a positive click action.

Durometer

A standard test device which measures the hardness of rubber. A durometer presses a standard calibrated spring loaded metal piece into the rubber and measures how far the piece indents. For rubber durometer readings use the Shore A scale. See also Shore A hardness.
E
Ejector Pins

Ejector pins force mouldings out of a mould once the moulding cycle is complete, most common in plastic moulding but also used in rubber moulding.

Elasticity

how a material (usually an elastomer) tends to return to its original shape after having been deformed.

Elastomer

A polymer with elastic properties. Natural or synthetic polymer materials which can be stretched and on release of the stretching force will return broadly to their original shape / length. Rubbers are elastomers.

Elongation

The percentage increase in length of an elastomer resulting from a tensile force being applied.

Elongation at break

Elongation at break is defined as the length at breaking point as a percentage of its original length. If a sample achieves twice its length before breaking, its elongation is said to be 100%.

EPDM

EPDM rubber is short for ethylene propylene diene monomer. EPDM is versatile, it is used in seals, o-rings, hose, belts, tubing, washers, and electrical insulation.
See also: /materials/
F
Family Mould Tool

Or Family Tool. A mould tool with cavities for various components of an assembly. If the components are used at the same rate it can make sense to have them all in cavities in the same mould tool.

FDA approved material

The United States Food and Drug Administration (FDA or USFDA). FDA approved materials are suitable for use in food and drug processing.

Ferrite Fillers

A ferrite filler makes rubber detectable by production line metal detectors. Any small fragments of rubber that break away perhaps due to continued abrasion will be detected by metal detection equipment often used on food production lines. See also
/sectors/pharmaceutical-processing/

FFKM

FFKM (Perfluoroelastomers) are the elastomeric form of (poly tetrafluoro ethylene) PTFE. FFKM contains more fluorine than FKM. It operates to about 325°C. Also FFKM has improved chemical resistance, with near total chemical compatibility. FFKM is expensive.

Flash

Excess material, generally found at the tool join lines, which needs to be removed post moulding. See also Trimming

Fluorosilicone

Fluorosilicone is a silicone rubber with high temperature stability and good mechanical properties, it offers greater resistance to fuel, oil and other chemicals but can be five times more expensive than normal silicone rubber.
See also: /materials/

FPC

Flexible Printed Circuit board. Most of our membrane switch keypads are built on FPC boards. On the circuit board are contacts for the dome switches or carbon pills and LEDs for back illuminating the keys on the keypad. Typically the FPC will have a tail taking electrical circuits from the buttons and LEDs out to a connector.
G
Gaiter

A convoluted rubber moulding used for the protection of moving parts. Bellows protect shafts that move linearly in and out, gaiters protect items that rotate. See also Bellows.

Gasket

A piece of rubber, or other material, that seals between to surfaces. Gaskets can be cut from flat or moulded.
H
HTV

High Temperature Vulcanising (HTV) refers to elastomers which are cured at high temperatures. Rubbertech 2000 uses HTV elastomers almost exclusively, they provide better performance than RTV elastomers and are better suited to manufacturing.
I
ID

ID or Inside diameter is the diameter of the inside of a circular component. (e.g. of an O-ring) See also OD (Outside Diameter)

Impressions

The number of cavities (impressions) in a mould tool, how many instances of an item are produced every moulding cycle. Generally the more cavities the lower the unit price, although the tool itself will cost more.
See also: knowledge/multiple-cavity-tools-for-rubber-mouldings/
And: knowledge/keeping-the-tool-hot/

Instrument Cover

A cover to protect an instrument against mechanical damage. Instrument covers can also cosmetically enhance a product as well as offering protection against mechanical damage and or liquid ingress.
See also: /rubber-mouldings/instrument-covers/

Injection Moulding
J
K
Keypad

Rubbertech 2000 are a specialist moulder of rubber keypads and we believe we are the UK market leader. Keypads are an HMI (Human Machine Interface). Keypads are used in Pharmaceutical, Military, Medical, Instrumentation and the Aerospace sector.

Keymat

A keymat is another term for a keypad, and it refers specifically to the physical component of the keypad that contains the keys or buttons. The keymat may be made of different materials, such as plastic or silicone, and may have a variety of designs, such as raised or flat buttons. The keymat is typically connected to the circuit board of the device, which detects and processes the signals sent by each keypress.
L
Laser Etching

Using a laser to cut button decals into a keypad. A translucent silicone keypad is sprayed white and then black and then our laser etches decals through the black layer revealing the white underneath. When illuminated from below, the decals are backlit.
See also: /laser-etching-allows-backlit-keypads-and-keyboards/
And: /new-laser-etching-machine/
And: /Laser Etched Silicone Rubber Keypads/

Latex

Latex is the white sap from the rubber tree which is the raw material in the production of natural rubber.

LED Backlit

Where a PCB mounted LED behind a keypad is used to backlight a key on a keypad. Often achieved by laser etching the key.

LSR

(Liquid Silicone Rubber) LSR comes in two parts and is injected into moulds before being vulcanised. Rubbertech 2000 use LSR to produce prototypes in 3d printed moulds.
See also /prototyping/
M
Mold

American spelling of Mould.

Molding

American Spelling of Moulding.

Mould

Word used to describe a mould tool in which rubber parts are formed. English spelling.

Moulding

The item that is produced by a mould tool. English spelling.

Mould Release

Mould release is a lubricating liquid sprayed into a mould before rubber is introduced, mould release makes it easier to get the moulding out of the tool once vulkanisation is complete.

MOQ Minimum Order Quantity

A minimum order quantity requirement for a particular part. Note: Rubbertech 2000 don't issue MOQs, rather we charge a higher price the lower the quantity to cover set up charges and sometimes MOQ materials requirements placed on us.
See also: /minimum-order-quantity-for-rubber-mouldings/

MSDS

Material Safety Data Sheet, manufacturer provided data sheet on safety during the production of rubber items.

Multiple Cavity

Multiple Cavities refers to a mould tool in which a number of impressions have been cut. On small items this could be as many as 225 cavities, large complex mouldings may only have one cavity. Generally the more cavities there are, the lower the unit price will be as we will get more items per moulding cycle.
See also: knowledge/multiple-cavity-tools-for-rubber-mouldings/
And: /keeping-the-tool-hot/
N
Natural Rubber

Natural Rubber starts its life as latex, extracted from rubber trees. Natural rubber is used in gaskets, seals, medical gloves, shock mounts, hoses & tubing. 70% goes into tyres for vehicles. Other items made of natural rubber include shoe soles, hot water bottles, balloons, and rubber boots.
See also: /materials/

NBR

NBR, aka nitrile butadiene rubber, NBR, Buna-N, and acrylonitrile butadiene rubber, is an oil-resistant synthetic rubber produced from a copolymer of acrylonitrile and butadiene. Main applications are fuel hoses, gaskets, and other items where oil resistance is needed.
See also: /materials/

Neoprene

Neoprene is a synthetic rubber which is water, oil, and heat resistant. It is a good insulator and commonly used to make wetsuits. It can also be used to make phone cases, and mouse pads. Neoprene is valued for its weather resistance and durability. See also: /materials/

Nitrile

See also NBR, nitrile butadiene rubber (NBR)
O
OD

OD or Outside Diameter is the outside diameter of a circular object. See also ID (Inside Diameter)

Opaque

Does not transmit light

Operating Temperature Range

The temperature range in which a rubber can operate without being degraded. NB There are also short-term ranges, higher or lower than the standard operating range which will not degrade the material.
See also: /operating-temperature-ranges-for-rubber-mouldings/

Over Moulding

The process of moulding rubber onto an existing component. The item to be moulded onto must be able to withstand the temperatures and pressures of the moulding press running typically at 150C for perhaps as long as 14 minutes.
See also: /over-moulding-or-bonded-rubber-assemblies/

Oven Curing

Post moulding additional curing in an oven, to ensure complete vulcanisation.
P
Pad Printing

See also Tampo printing, the process of transferring a print onto a component using a pad.

Pantone

Pantone colour reference, a US system which permits different organisations to produce items in the same colour. Silicone rubber is very colourable and can be produced in Pantone colour references. See also RAL.
/Colourful rubber/

Parylene Coating

A finishing coating, which we use most often in items for the defence sector, which offers excellent and enhanced chemical resistance.

Permanent Set

When after stretching a piece of rubber does not return to its original length this is called a permanent set. The excess length in the rubber is expressed as a percentage of the rubber's original length.

Plastic Key Caps

Plastic caps are when a key top is formed in plastic and fixed on top of a silicone keypad. Plastic caps are very hard wearing and can be laser etched or back lit as desired. Suitable where very high wear is expected or for graphical reasons. See also: Plastic Key Caps and Plastic Key Caps

Prototype

Small quantities of parts typically produced by non-production methods at the start of a project to prove a design.
See also: /prototype/

Prototype Tool

A mould tool, perhaps in aluminium or 3D printed, intended for the moulding of limited numbers of prototypes.

Polymer

A polymer is a material made up of two or more monomers.

Post Cure

After the moulding cycle, further curing moulded parts for a period in an oven. This can be required to fully stabilise and vulcanise the mouldings.
See also: /Post Curing in Rubber Moulding/

Pot

A chamber above a transfer mould tool into which rubber is placed. When the transfer tool closes, the pot is compressed forcing the rubber down sprues to the cavities in the tool. See also transfer moulding.

PU Coating

A hard wearing PU (Polyurethane) coating that can be applied to mouldings as a finishing operation. See also Silicone and Parylene coatings.

Pull throughs

Pull throughs are rubber legs extending below a rubber moulding which are inserted into holes in a PCB and pulled through. They are an interference fit in the PCB, and serve to both locate and retain the moulding in a fixed position relative to the PCB.
Q
R
RAL

RAL is a German colour management system, a rival to Pantone. Rubbertech 2000 can produce Silicone mouldings to RAL or Pantone colour references. See also Pantone.
/Colourful rubber/

Robot Spraying

Rubbertech 2000 now use a Universal Robot to spray our keypads. The robot accurately and consistently sprays the parts, and this makes subsequent operations like laser etching more consistent.
See also: /robot-spraying/

RoHS Compliance

The Restriction of Hazardous Substances (RoHS) Directive 2002/95/EC restricts the use of hazardous materials in the manufacturing of various types of electrical and electronic equipment. The RoHS Directive currently restricts the use of ten substances: lead, cadmium, mercury, hexavalent chromium, polybrominated biphenyls (PBB) and polybrominated diphenyl ethers (PBDE), bis(2-ethylhexyl) phthalate (DEHP), butyl benzyl phthalate (BBP), dibutyl phthalate (DBP) and diisobutyl phthalate (DIBP).

RTV

Room Temperature Vulcanising (RTV), elastomers cured at room temperature.
S
SBR

Copolymer of Butadiene and Styrene; an all-purpose type synthetic, similar to natural rubber.

Screen Printing

Finishing method: A method of printing in which inks are pushed through a screen onto a moulding. At Rubbertech 2000 we do both screen and Tampo printing.

Shore A Hardness

A measure of a rubber materials ability to withstand indentation.
See also: /shore-a-hardness-explained/

Shrinkage

The shrinkage of moulded rubber (or thermoplastic) on cooling and removal from the tool. Shrinkage must be taken into account in the design of a mould.

Silicone Rubber

Silicone Rubber is an elastomer composed of silicone containing silicon and carbon, hydrogen, and oxygen. Silicone rubbers are widely used in industry. There are multiple formulations with various fillers to enhance properties and or reduce cost. Silicone rubber is stable, resistant to extreme environments and temperatures from −55 to 300 °C while maintaining useful properties.
See also: /materials/

Silicone Spray

In spray form, we coat keypads with a protective layer of silicone to make them more robust and long lasting.

Single Cavity

A mould tool with one cavity, makes one part per cycle. Large, complex or low volume items, and often prototyping tools will have one cavity.

Spraying

A finishing operation during which colour or coatings are sprayed onto a moulding. We now spray with a Universal Robot which covers mouldings with great consistency.
See also: /robot-spraying/

Sprue

When doing injection or transfer moulding Sprues are small tubes through which rubber is injected to reach the cavities of the mould tool.

Steel Mould Tool

Production mould tools are typically made in tool steel. Steel tools are robust and typically last the lifetime of the moulding.

STEP Files

A format of 3d CAD files which enable quicker production of quotes and production of mould tools. STEP files are a format of 3d CAD that Rubbertech 2000 use.

Synthetic Rubber

Man-made elastomers as opposed to natural rubber, includes Fluorocarbon, Nitrile and Silicone rubbers.
T
Tampo Printing

Also known as pad printing. A flexible pad picks up ink, already formed to shape, and transfers it onto the part.

Tear Strength

A measure of a materials ability to resist tearing.
See also: /tensile & tear strength/

Tear Trim

Or Tear Strip – A very thin section of rubber at the join of a tool which can be easily torn off when trimming.

Tensile Strength

The absolute strength of a material, standard test pieces are subject to pull forces until failure and the forces and stretching recorded.
See also: /tensile & tear strength/

Thermoplastic

Plastics which are capable of being repeatedly softened by increases in temperature, and hardened by decreases of temperature.

Thermoset

A material which undergoes a permanent set or chemical change from heating and after which it is then heat stable, i.e it won't melt. Rubbers are thermoset materials.

Tolerances

A tolerance is an acceptable variation in the dimension of a feature of a part, from the nominal measurement on the drawing. We need tolerances because rubber tends to shrink on removal from the mould. Tolerances for Rubber products are detailed in ISO 3302-1, Rubbertech 2000 usually operate to M2 tolerances.

Transfer Moulding

A halfway house between compression and injection moulding. Rubber is placed into a pot which is compressed as the tool is closed. The rubber is forced from the pot, through sprues to the cavities in the tool below.
See also: /a-guide-to-compression-and-transfer-moulding/

Translucent

Transmits light, in a semi-transparent way, but isn't wholly transparent. Clear silicone rubber is translucent enough to permit backlighting of buttons and keypads which Rubbertech 2000 achieves most often by use of laser etching.

Trimming

Removing excess material usually along mould join lines. See also Tear Trim
U
V
Vacuum Press

A press with a vacuum head which removes air from a mould enabling rubber to better flow into all nooks and crannies. Rubbertech 2000 operates a number of vacuum presses.

Viscocity

A measure of a liquid's resistance to flow. Oil has a much higher viscosity than water.

Viton

Viton is a registered trademark of the Chemours Company (previously of DuPont) it was introduced in 1957. Viton is an FKM, a synthetic rubber and fluoropolymer elastomer most often used in seals, chemical-resistant gloves, and various molded and extruded items.
See also: FKM and /materials/

Vulcanising

First discovered by Charles Goodyear in 1839. The irreversible process by which HTV rubber vulcanises under temperature and pressure.
See also: /what-is-vulcanisation-of-rubber/
W
WRAS Approval
X
Y
Z