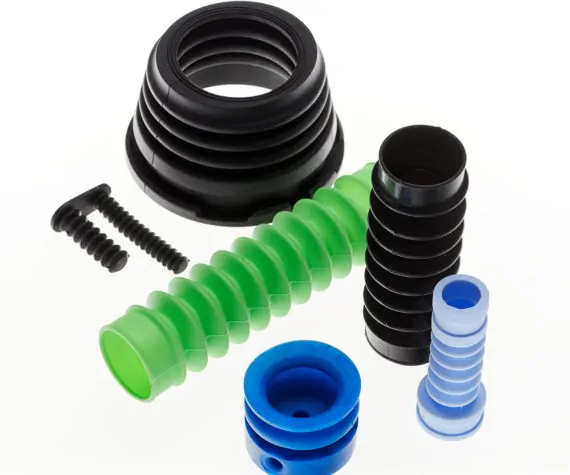 Rubbertech has been a UK manufacturer of rubber bellows for over 30 years.
We supply many different designs of bellows mouldings to our customers and manufacture in Silicone, Neoprene, Nitrile, EPDM, Fluorosilicone, Viton and TPE materials.
Seals and Protection
Rubber bellows are used to form a seal or offer protection to moving parts, we supply many designs of rubber bellows such as small high specification designs that are used in military switches, FDA grade bellows used on pharmaceutical processing equipment, suction bellows used in cardboard packaging machines and joystick / gear bellows used in agricultural vehicles, these are just a few examples.
Applications
When looking to manufacture rubber bellows it is important to understand the application where they are used.
Will they be used at low temperature or very high temperatures and for how long?
What, if any chemicals or oils will the bellows come into contact with?
What is the total travel needed on the bellows, what is the compressed length and extended length? This will determine how many convolutions are needed and the pitch of the convolutions.
Does the material need to have any specific approvals such as WRAS, FDA, UL or USP?
The answer to these questions effect the material choice and in turn effects how the mould tool is designed as different materials, convolution designs require different moulding solutions.
All of our rubber moulded bellows are manufactured using the latest in compression moulding technology and can be produced using steel tooling for medium to high volume requirements or Aluminium tooling for small run quantities.
Rubbertech supply to so many different industries that we feel more than confident in being able to help with almost any rubber moulding enquiry. We welcome visits for quality or design discussions at our UK factory where we can demonstrate the moulding process and show examples of products currently manufactured.
Please send us your drawing or contact us for further information.