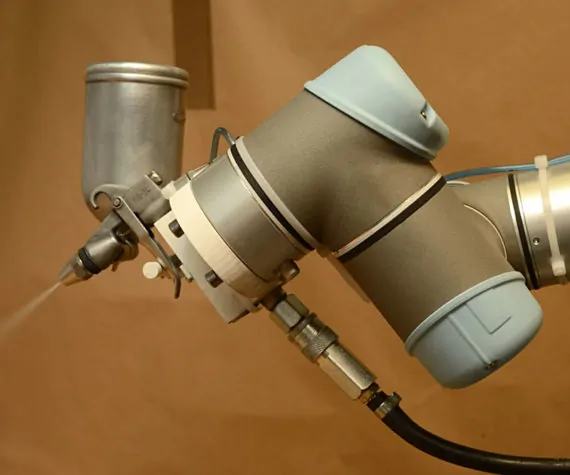 Spray coating is one of the specialist finishing operations that Rubbertech can apply to our silicone mouldings
We can spray silicone mouldings with coloured/metallic sprays to enhance the appearance and soft and hard feel protective coatings to protect the silicone mouldings from print wear or dust attraction.
Manual and automated rubber spraying
With manual spraying, there is always the chance of inconsistent coverage or inconsistent thickness on the sprayed surfaces. Previously our spray operators would use a small detailed handheld spray gun. The operator moves the spray gun across the spray area at constant speed and distance to achieve full surface coverage, this operation often needs repeating several times to ensure correct levels of coverage are achieved.
We are now using a UR5 robot, (the head and programme were developed by Armada Solutions from South Wales), to improve quality and consistency and reduce rejects.
Manual spraying can hinder our later laser etch process, which burns through the outer layers by a very precise amount.
Laser configuration
The issue with coverage is if there is too much ink the laser struggles to burn off the black, or if there is not enough coverage we get light bleed through the black. The robot takes out a lot of the variables that can't be replicated, we can set speed, height and air flow through the gun, we can set the dilution mix on the ink also, we can then say everything is the same batch to batch.
Already, within the first few weeks, we are seeing improved quality and reduced rejects from this new investment.