Laser etching allows backlit keypads and keyboards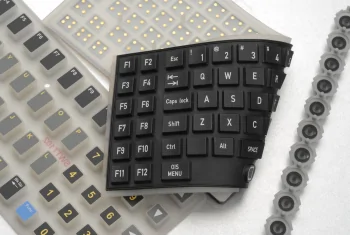 Many keypads that Rubbertech currently manufacture require backlit legends for use in low or poor light conditions and are produced using a laser etched process.
Manufacturing a backlit rubber keypad using a laser etching process ensures only the legends on the keypad are illuminated and that no light is illuminating from other areas of the keypad such as sides of buttons or the base mat.
The laser etching machine is extremely accurate so tolerances of less than 0.1mm are possible and legends can be moved or changed easily without any additional tooling costs.
Producing a backlit laser etched keypad involves more processes that a standard printed keypad but does offer a high value finish that will enhance the look of the finished product.
First the keypad is moulded in a translucent silicone rubber which allows good light transmission. Then the top of the moulded keypad is sprayed with a white silicone ink.
Following the white layer, the top of the keypad is then sprayed the finished colour of the keypad, usually a dark colour, often black. It is important this dark layer is of a consistent thickness because the laser is going to quite precisely etch through this layer to expose the white underneath.
The sprayed keyboard is mounted on a jig for the Fibre laser, which etches the lettering for each key through the dark layer exposing the white underneath.
Finally, the keyboard is finished by being sprayed with a clear silicone or PU ink to give it an even more hard-wearing surface finish. Parylene finishes are also applied for some applications.