Silicone rubber keypads with carbon pills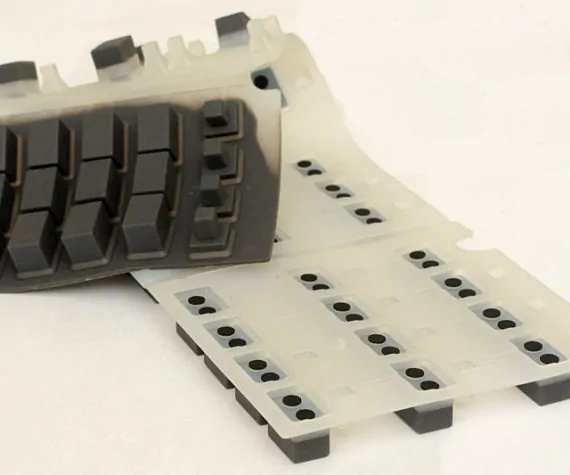 Silicone rubber keypads with carbon pills use conductive carbon pills to create a connection on a PCB below.
These keypads are commonly used in electronic devices, such as remote controls, calculators, medical equipment, and industrial controls.
Rubbertech 2000's rubber keypads with carbon pills are bespoke, designed for specific customer applications. Sometimes they can be designed to be reused on other equipment by the same customer, however the mould tools and jigs and fixtures will be specific and owned by that customer, they can't be used for others without that customer's permission.
Different sizes of conductive carbon pills are available, to match the corresponding contacts on the PCB, located below the keyboard. Pills are moulded onto the bottom of each key. Once the build is complete, when a key is pressed the conductive carbon pill touches the two contacts on the PCB and makes that electrical circuit. We are not limited to one pill per button, sometimes it is better to use two or even four pills and corresponding eight contacts per button.
During moulding, pills are added to a jig where they are held in place by suction. The jig is positioned on the mould tool such that every pill is in its place and when the suction is removed the pills are released into their assigned positions. Care is required as a missing pill will cause a keypad to be scrapped.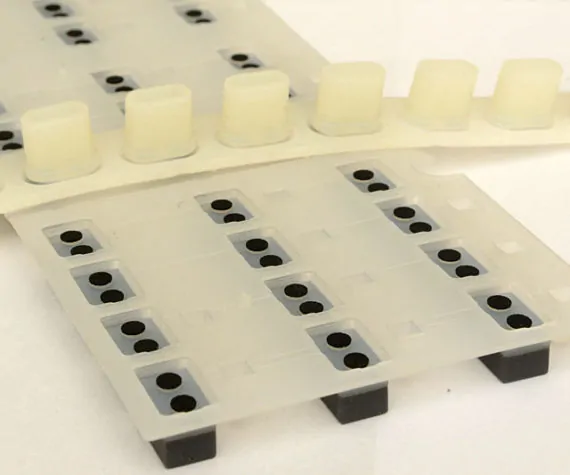 Silicone is added to the mould tool and the tool is closed in the press so that the silicone can attain its shape and vulcanise.
The Pills are effectively over moulded with silicone in their places in the mould. Silicone used for compression moulding is quite viscous and does not penetrate around the front of the pill, leaving that surface clean.
Note, an alternative to carbon pills is gold pills which are harder and cope with higher temperatures. Most of our keypads use Carbon though.
The feel of the rubber keyboard keys is decided largely by the force and travel required to depress each key. This is determined by the shape and size of the rubber web around each key, this web deforms when a key is pressed and causes the button to spring back when the pressure is removed.
Rubbertech 2000 specializes in the design and manufacture of silicone rubber keypads, among other products. We offer a full range of customization options.
Silicone rubber is a popular material for keypads because it is flexible, durable, and resistant to water, chemicals, and extreme temperatures. It is also very colourable and provides a comfortable and tactile feel for the user.
Lifetime uses of silicone keypads with carbon pills are in the region of 1-5 million actions. Silicone rubber keypads with carbon pills are a reliable and cost-effective solution for electronic devices that require user input.
Rubbertech 2000 have been a keypad manufacturer since the company's formation in 1986. It is one of our specialisms.
If you have an enquiry for keypads with or without carbon pills, we would love to hear from you.