Post curing: in rubber moulding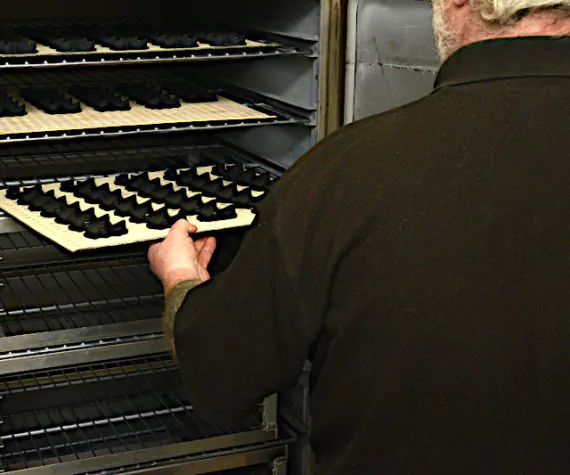 Post curing is when moulded items are put in an oven after moulding to continue curing.
The material supplier will normally specify post curing requirements.
Post curing is done for various reasons including:
1. To achieve better physical properties: Post curing can enhance the physical properties of a rubber part, such as its strength, elasticity, and resistance to heat and chemicals. This is particularly important for parts that will be exposed to harsh operating conditions.
2. To reduce residual stress: Rubber parts can develop residual stress during the moulding process, which can cause deformation or failure over time. Post-curing can help relieve this stress and improve the part's dimensional stability.
3. To ensure complete cross-linking: The curing process during moulding may not always result in complete cross-linking of the rubber. Post curing can help complete this process, resulting in a more stable and durable part.
4. To eliminate residual solvents: Some rubber compounds contain solvents that can be harmful to the end user or to the environment. Post curing helps drive them out of the part at the manufacturing stage.
Post curing is an important step in the manufacturing process of certain rubber parts to ensure that they meet the required physical and chemical properties for their intended use.
Food compatible rubber mouldings are very often post cured to burn off impurities, Post curing can be a requirement for mouldings destined for food applications.
In food processing and handling applications, it's important to use rubber parts that are safe for contact with food and that meet certain regulatory requirements. Post curing can be an important step in ensuring that rubber parts used in these applications are free from impurities and other contaminants that could otherwise potentially contaminate the food or affect its quality.
Additionally, post-curing can help to ensure that the rubber part meets required physical or chemical properties needed for its specific food application. Post curing can be a requirement for rubber moldings destined for food applications, and it's essential to follow the recommended post curing procedures.
Rubber that has just been moulded can have a strong rubbery smell which can be removed by post curing.
The strong rubbery odour that is often noticeable with freshly moulded rubber parts is caused by volatile organic compounds (VOCs) that are released during the curing process.
Post-curing can eliminate these VOCs, resulting in a final rubber product that is odour free. This can be particularly important where odour control is essential, such as in food & drink processing, medical, and pharmaceutical industries.
The duration and temperature of the post-curing process will depend on the specific rubber compound being used, as well as the properties required for the final product. However, it's important to follow recommended post-curing procedures to ensure that the final product meets the required specifications and is safe for its intended application.
The material manufacturer will normally specify, for example, "post cure 4 hours at 200C".
Post curing after spraying or printing on rubber items
Post curing is common after spraying or printing on rubber items, to improve the physical properties and increase the durability of the coating. The post-curing is not normally as long as that for the material itself.
The temperature and duration of post-curing depends on the rubber being used and the type of coating applied. In general, temperatures range from 100 to 200 degrees Centigrade, and curing time can vary from a few minutes to several hours with curing a coating of ink generally being at the lower end.
Post-curing after printing or spraying improves the adhesion of the coating to the rubber keypad. It enhances the chemical and heat resistance of the coating and reduces the risk of cracking or peeling over time. Finally, as with post curing of the moulding itself, it also helps to remove any residual solvents or other contaminants from the coating, ensuring a clean and uniform surface.
Post-curing is an essential step in the production of high-quality rubber items.