Silicone rubber in food production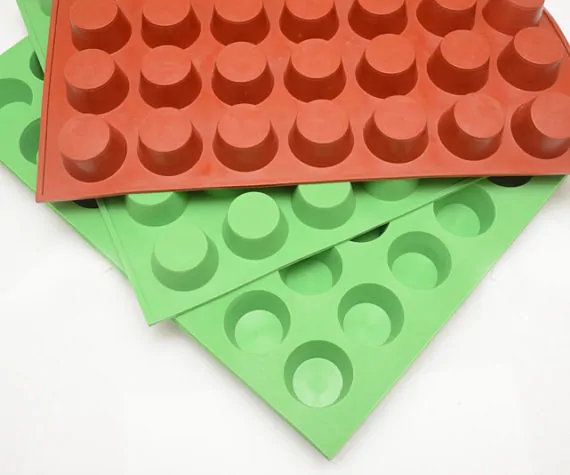 Silicone rubber can be found on many food production lines
Silicone rubber can be found on many food production lines, from chocolate casting to baking muffins.
Silicone offers a food safe option for casting or moulding food and can also withstand high temperatures if ovens are used as part of the production line.
Silicone can be easily coloured to help with identification of different product groups, such as vegetarian, vegan or Gluten Free options.
After use on the production lines the silicone can be put through cleaning cycles and steam sterilized with no adverse effects and then used again.
Rubbertech have experience of helping customers to design silicone food moulds to ensure optimal efficiency on their production lines. Often a bespoke silicone mould tray solution manufactured to suit the customers production line will be far more beneficial than a standard off the shelf product.
We can take the customers information and produce 3D CAD models of the solutions. This allows us to present the customer with 3D renders with critical dimensions as well as costs for tooling and production batches.
With our UK factory we can ensure quick turnaround of a solution, quotations and then production deliveries.
Please contact us to see if we can assist with your requirements or if current solutions are due for re-evaluation.