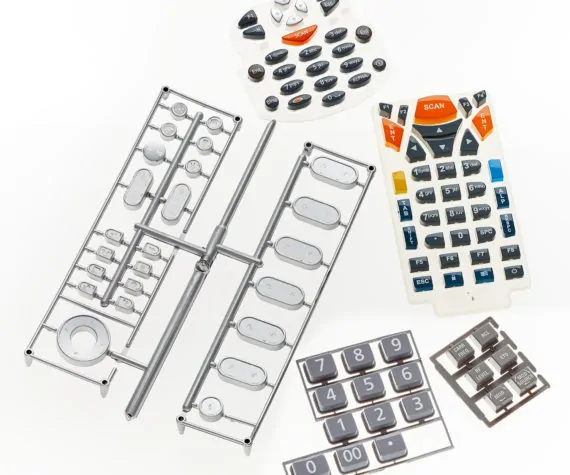 Rubbertech have developed partnerships with several companies in China over the last 25 years, these relationships allow us to manufacture high volume keypads, rubber seals and plastic injection mouldings and complete electronic assemblies economically and to a high standard.
All mouldings are 100% inspected in the Far East and also inspected once they arrive into our UK factory, we then have the option of holding stock in the UK factory so that customers do not have to plan for long deliveries times.
The tool making equipment used includes High Speed CNC Machines, EDM Machines, Slow Feed Wire Cutting Machines and also Lathes; this enables quick, accurate and efficient completion of production tools. Rubber moulding equipment includes Compression, Injection and Transfer rubber moulding machines all being computer controlled to ensure efficient and high quality product can be produced.
Plastic Injection equipment includes computer controlled injection machines ranging from 3.5T to 20 ounce including 2 shot moulding machines.
Our partners have printing, spraying and laser etching facilities for both plastic and rubber mouldings and produce all tooling in house to ensure quality can be monitored and maintained.
For projects requiring multiple mouldings or components we can supply these as assemblies, for example some keypads require metal click dome layers, flexible membrane circuit layers or plastic caps to be fitted.
With all new projects, before any work is started on the tools our UK engineers will check the customer design and discuss any possible alterations. Once design is finalised our toolmakers will send a final drawing to Rubbertech for customer approval. Once final drawings are approved our toolmakers can also provide tool construction drawings.
All of our partners are ISO credited and we regularly visit and meet to discuss new projects and to maintain our close relationship.
Our UK and Far East services compliment each other and increase the level of flexibility and service that we are able to offer our customers.