2d and 3d CAD drawings in rubber moulding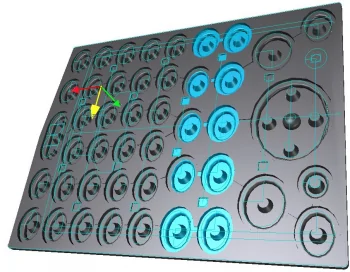 This article highlights the benefits of providing a drawing in either 2D or 3D formats when it comes to ensuring an accurate quote for a rubber moulded item, and what to consider in preparation.
Why should you provide a drawing?
An accurate fully dimensioned drawing of the part to be moulded allows us to offer a much more accurate tool and unit cost, particularly for custom rubber mouldings.
A 2D drawing is often the easiest drawing to generate and we can accept this in either PDF, DXF & DWG formats. A 2D drawing is more than acceptable for simple moulding designs, however, for more complicated mouldings with intricate cross-section details a 3D CAD drawing is preferred.
3D CAD drawings allow us to calculate material volumes of the part easily. As a result, we can provide an accurate overall unit price which helps our customer to prepare costings. We can work with 3D files in the following formats; STEP, IGES, STL and X_
How do 3D CAD drawings help us to quote?
3D CAD drawings allow us to clearly see undercuts and potential moulding difficulties early in the process. This can help determine what would be the most cost-effective tooling and moulding solution to choose. In some cases, drawings and 3D files can persuade us it is not possible to mould the component as designed, perhaps because it would be impossible to remove the finished component from the mould. As well as highlighting design issues 3D CAD drawings can also help with finding solutions, being able to move and manipulate models can make suggesting changes much easier.
What key questions would we be asking?
How and where will the mould be split?
Does it need a multipart tool?
How much rubber will we need per cavity?
What volumes are needed and how many cavities are required?
What if I don't have a 2D or a 3D drawing?
If the quotation is required for an existing product we can produce a quotation from a customer supplied sample. However, if the quote is for a new product we would require some form of dimensioned drawing.
Summary
The most suitable way to prepare for an accurate quote is to produce a 3d step file and 2d drawing. This permits us to confirm the design is suitable for production, accurately calculate how much rubber will be needed per part and for our toolmakers to section your part in multiple locations to see hidden features and dimensions and confirm accurate costs.
For more information please contact us.