Weather sealed coiled spring antenna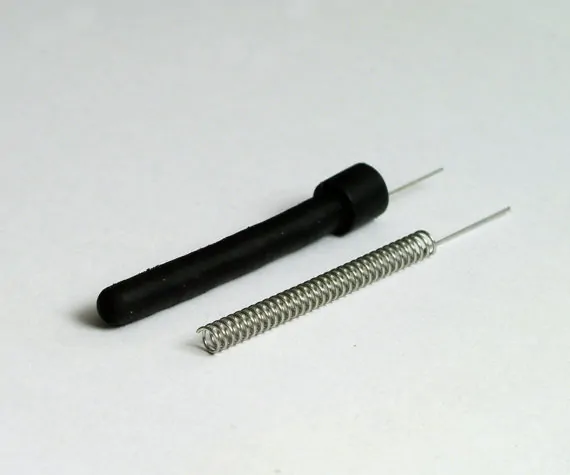 Our customer had an existing coiled spring antenna product produced with an over moulded ABS base and the remainder of the tinned spring wire with TPU.
Unfortunately, when the antenna moulding was exposed to moisture at high pressures and temperatures over 70C, the TPU allowed moisture to penetrate and corrode the spring, allowing water to reach the component electronics.
The solution was not simple. First we had to find a material that would be suitable. Silicone rubber would have been the easiest for us to use but because the material can absorb gas, this would not be suitable for the customer product. After some moulding trials and working with our material supplier, we found a suitable material that would offer properties that the customer required, and that was also suitable for our moulding process.
The secondary problem was how to over mould a small spring using a compression moulding process. We devised a two shot transfer injection process to achieve this, so each half of the part was moulded in separate stages. This was needed as it was impossible to hold the spring in a "floating" position in the tool that would have been needed to completely encapsulate the spring evenly.
The customer is now very happy with the results – the moulding is completely weather proof, the spring has no exposure to the atmosphere, and the moulding offers a wide temperature tolerance. The part will now be used across the customer's range.