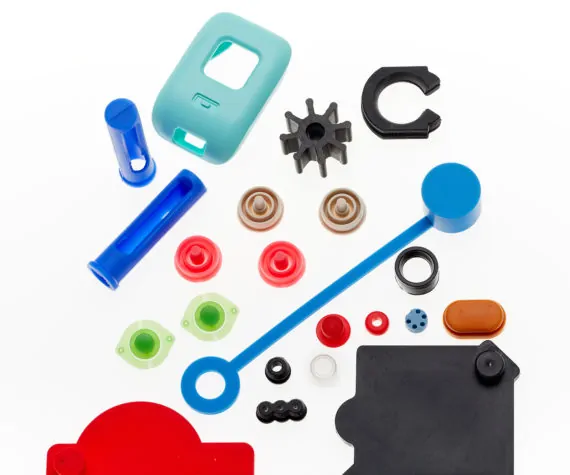 Rubbertech has been a specialist Silicone Moulding manufacturer since 1986.
We supply silicone rubber mouldings as seals, gaskets, keypads, bellows, gaiters, instrument covers, and much more, using compression and transfer moulding utilising the latest moulding and materials technology.
Silicone is a versatile rubber for moulding, offering good temperature performance, excellent weathering and water resistance, it can be supplied to meet various materials approvals; FDA, WRAS, UL etc. Also silicone rubber mouldings can be coloured according to RAL or Pantone references.
Manmade rubbers such as silicone rubber are sometimes described as synthetic, this is because they have been synthesised from other materials.
Silicone rubber mouldings are the most common mouldings in synthetic rubber, silicone rubber mouldings are composed of silicone, hydrogen, carbon and oxygen. Silicone moulding offers a good balance of mechanical and chemical properties. With a temperature range of -100°C to +300°C making it widely used across many industries.
If you have a need for a silicone moulding, chat with us if we are online, use our contact form, email or call us. We look forward to hearing from you!
Being highly inert, silicone mouldings can be used in medical applications or food processing. Silicone rubber is available in shore A hardness from 10 to 100. Silicone mouldings also have excellent UV and Ozone resistance which makes them suitable for outdoor applications. In this, silicone mouldings exceed the performance of natural rubbers.
It is the use of additives that generates such a wide range of properties of various silicone rubber mouldings.
Wacker claims around 1,000 different silicone rubber products. All varied because of the specific additives used. Additives can adjust the performance of silicone rubber giving it extreme high or low temperature, electrical conductivity, flame retardancy, chemical resistance, high tear strength, etc.
Our silicone rubber mouldings use HTV (high-temperature-vulcanizing) silicone rubbers. High-temperature vulcanisation describes how the silicone rubber is permanently vulcanised (cured) when it is in the moulding press having been shaped into the part we are moulding and subjected to high temperature.
If you are considering silicone moulding we can advise on silicone and offer a quotation.