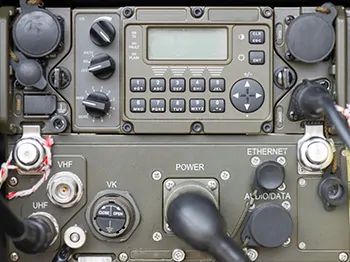 Rubbertech have been manufacturing high precision rubber mouldings for the Military Device Industry for over 25 years.
Our main focus has been on seals, gaskets and high specification keypad mouldings.
The Military mouldings we supply need to be to the highest quality standards and also need to withstand rigorous test regimes. Often mouldings are produced in Fluorosilicone rubber and for our silicone keypads; these are coated with hard wearing PU coatings or for extreme protection Parylene coating can be applied.
All of our processes are closely monitored to ensure the highest standards possible are achieved and we can also accommodate customer specific packaging requirements so minimal handling is required at customer assembly stage.
Our continued investment in new moulding technology and inspection equipment ensures we maintain our ability to supply products to the high quality standards required by this industry.
We welcome site audits and the opportunity to discuss design and specific quality standards that new projects may require, please contact us to arrange a meeting.