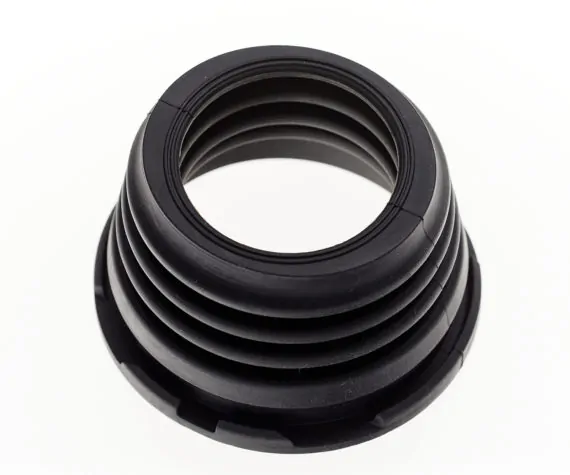 Rubbertech has been manufacturing Rubber Gaiter Mouldings for over 30 years.
We supply many different designs of Gaiter mouldings to our customers and manufacture in Silicone, Neoprene, Nitrile, EPDM, Fluorosilicone, Viton and TPE materials.
Rubber Gaiter Mouldings are often used in assemblies with moving joints to protect and seal the part from dust and liquids. We supply many different designs of Rubber Gaiter Mouldings and our mouldings are used in brake systems for trains, isolator valves in pharmaceutical processing equipment and in the automotive industry.
Custom Designs
All of our Rubber Gaiter Mouldings are manufactured to customer design. The material used will be determined by the end product and environment that the gaiter is assembled or used within. It is important we understand any chemical / oil exposure and any high or low temperatures that the rubber gaiter mouldings would be exposed to during operation.
The answers to these questions determine the material to be used and also how we design the moulding tool in terms of shrinkage and de-moulding of the Rubber Gaiter.
Compression Moulding
Our Rubber Gaiter Mouldings are manufactured using compression moulding technology. This allows us to produce to a high specification and high quality. The moulding tools used are generally steel tools or can be aluminium if only small quantities are required. These tools often comprise of polished centre cores to form the gaiter profile and moulded in our latest vacuum controlled machines.
Rubbertech can produce single impression tools to accommodate small quantity requirements for prototyping or low volume production and also higher volume requirements using multi impression tooling with automatic ejection cores to increase efficiency.
Rubbertech supply to so many different industries that we feel more than confident in being able to help with almost any rubber moulding enquiry. We welcome visits for quality or design discussions at our UK factory where we can demonstrate the moulding process and show examples of products currently manufactured.
Please send us your drawing or contact us for further information.