Liquid Silicone Keypad Assemblies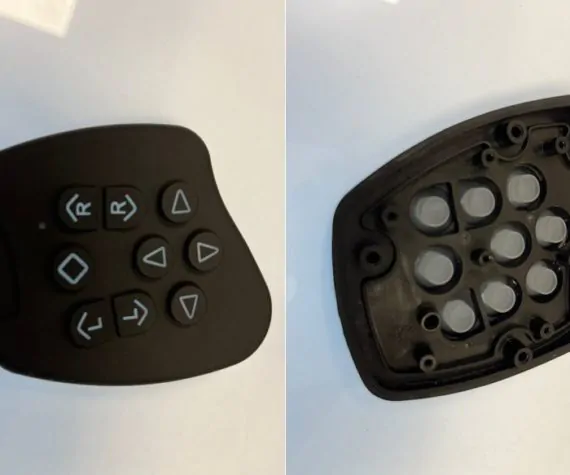 Liquid Silicone Keypad Assemblies
Using Liquid Silicone moulding technology Rubbertech can now supply customers with complete keypad / plastic over-moulded assemblies.
This solution for many customers can ensure IP rated assemblies without the requirement for additional bonding processes that may not offer reliable sealing.
The plastic component is pre-moulded and then loaded into the LSR injection tool. Liquid silicone can be moulded at much lower temperatures than traditional silicone used for keypads and without the high compression forces.
Once the LSR and plastic are moulded they form both a mechanical and chemical bond.
The keypad assembly can then be finished with printing, spray coatings and laser etching if backlighting is required.
We can supply keypads assembled to a flexible printed circuit or FPC, these assemblies can incorporate metal dome switches, LEDs for backlighting and are supplied with cable and connector.
Offering a quality premium finish, this moulding option adds value as well as technical advantages to customer products.
If you are new to working with Rubbertech 2000 and would like to increase your confidence in us as a prospective supplier, we positively encourage inward visits. You are welcome to visit our factory, chat with the team, have a guided tour and see various rubber items being produced.
To arrange an inward visit, or to open communications with us, chat to us on our website, call (+44) 01594 826 019, use our contact page, or email sales@rubbertech2000.co.uk.