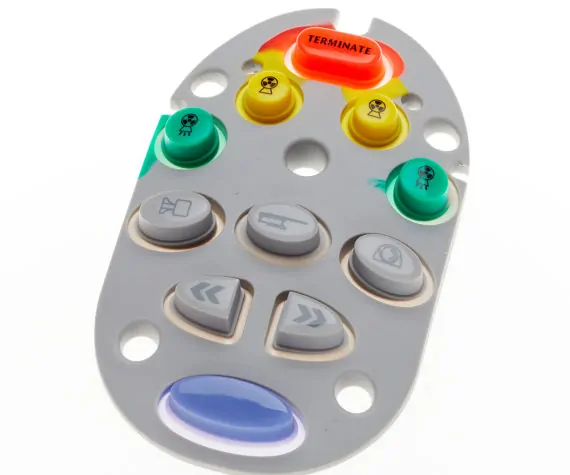 Silicone Rubber keypads can add value to a product if designed well and finished to a high standard.
Rubbertech has been manufacturing silicone keypads in our UK factory and with our Far East partner for over 30 years so can help advise the best methods to achieve the finish required. There are many options available.
Print, Spray and Laser Finishing
These options include:
Printing – Silicone keypads can be screen printed or pad printed, the method used depends on the profile of the printing surface. We use silicone inks that can be colour matched to RAL and Pantone colour references to ensure a long-lasting bond to the keypad.
Negative Printing – Where translucent keypads require backlit legends negative printing legends is a cost effective solution.
Spray colour finish – We can spray coloured inks onto the keypad surface if moulding in multi-colours is not an option. These colours can be matched to Pantone and RAL colour references and can also include metallic finishes.
Laser Etching – We use laser etching technology to remove surface inks allowing legends to be backlit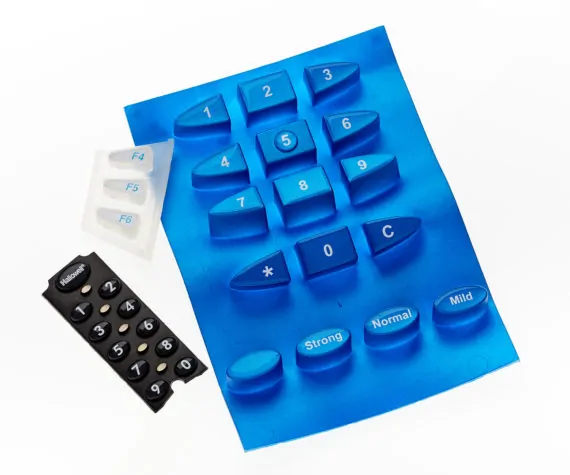 Protective Finishing
After these processes it is important to add a protective finish to ensure any print or coloured spray does not wear after prolonged use. We can offer several solutions.
Clear matt silicone spray coating – this protects the legends from wear and also helps reduce dust attraction to the silicone.
Clear matt silicone spray coating with anti-bacterial additive – This is commonly used for products used within medical environments to reduce the spread of bacteria
Clear matt PU spray coating – This offers a much harder, smoother feel than the silicone coating and can offer a harder wearing finish.
Parylene coating – Many of our keypads supplied to the Defence Industry have Parylene coatings applied, this is an expensive option as the application is a very specialised process and not suited to large volume production, however it does offer excellent chemical resistance.
Epoxy Resin – Keypads can have a clear resin surface finish applied, this is an expensive option but once the resin is cured it is very long lasting.
Plastic Caps – Plastic caps assembled to keypads are common where used on high operation products or more destructive environments. Our plastic caps can be printed, UV coated, laser etched and chrome plated.
If you are new to working with Rubbertech 2000 and would like to increase your confidence in us as a prospective supplier, we positively encourage inward visits. You are welcome to visit our factory, chat with the team, have a guided tour and see various rubber items being produced.
To arrange an inward visit, or to open communications with us, chat to us on our website, call (+44) 01594 826 019, use our contact page, or email sales@rubbertech2000.co.uk