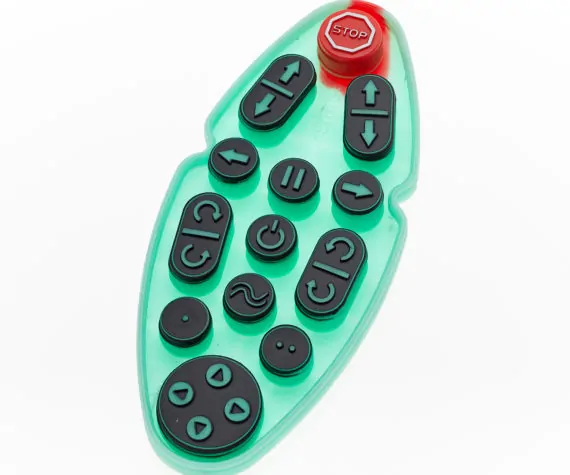 At Rubbertech 2000, we manufacture silicone and rubber custom keypads that are uniquely designed.
All keypad requirements are unique, so custom solutions are always more likely to be required. Rubbertech discuss and help to develop the customers design to best solve their requirement and ensuring ease of manufacture.
Custom rubber keypads can be manufactured to a size that suites the customers assembly, they can incorporate different size and shaped buttons and they can also incorporate O-ring designed sealing features that can sometimes remove the need for separate seal mouldings.
If we are online, chat with us, or contact us, we look forward to speaking to you
Bespoke designs
Custom keypad operation is also bespoke. Custom keypads can be designed with printed or solid carbon contacts that complete the switch on the customers PCB. Alternatively, the keypads can be designed to operate with metal switch domes or flexible printed circuits. These switch solutions form part of the custom keypad design development and the best solution will depend on several factors such as operating environment, switch feel requirements, cost and space constraints within the assembly.
Custom keypads also need to be located and held within the assembly. Custom keypads can be designed to incorporate features such as location pips, pull through pillars that get pulled through holes in the PCB and create an interference fit to hold the keypad in position. We can also supply your custom keypad with adhesive backing layers where required.
Beautifully finished
What really makes a custom keypad stand out and add value to the product is how it is finished. Custom design allows for the parts to be printed, spray coated and backlit using LED's and laser etching techniques.
Once the custom keypad design is signed off, clients invest in a custom mould tool and production jigs if printing, laser qetching, or carbon contacts are required. These tools and jigs are all 100% owned by the customer so we would not use these tools or jigs for anyone else.
If you have the beginnings of a keypad design, you would like to discuss please contact us and we would be happy to discuss further.