Making keypads with different coloured buttons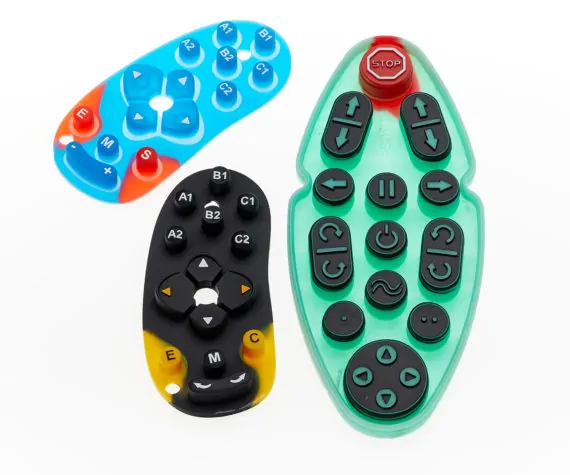 Silicone keypads can be manufactured with different coloured buttons. This is often an effective way of improving the user experience as certain colours have a universal meaning such as green and red. Adding colour also adds value to the product and a well thought out keypad design can set your product apart from the competition.
Silicone rubber can be easily colour matched to RAL and Pantone colour references and even to a customer supplied colour sample if necessary.
There are several ways in which we can produce this type of keypad.
Mould different coloured materials, at the same time, in the same tool
This is the most economical way to achieve differently coloured buttons. By adding different coloured silicone into the mould tool at the same time. There will be a certain amount of run between the different colours, this can be minimised by controlling the position the rubber is placed in the tool and by controlling the weight of the coloured material to +/- 0.1g.
Depending on the design of the keypad this may not be an issue as, if the keypad is assembled with a top fascia then, as long as there is enough room between the keys to allow for colour flow, the top 1/3 of the button, that is usually visible once assembled, should be free from contamination from other colours.
Pre-mould coloured buttons
Some keypad designs require clean join lines between the base keypad colour and the different button colours. This can be achieved by pre-moulding the coloured buttons in a separate button tool and then loading these pre-moulded buttons into the main keypad tool as a secondary operation. This is dependent on keypad button design but is possible in most cases. However, this requires 2 moulding operations which adds to overall cost.
Spraying buttons the required colour
If for various reasons the previous methods are not possible, a final option is to spray individual or groups of buttons in a coloured silicone spray. The spray used is a silicone based spray and too can be colour matched to RAL and Pantone references. This method involves using a silicone moulded mask for the buttons that are not being sprayed. These masks can be moulded at the same time as the keypad in the same tool so not to incur any additional tool costs. This method does add to overall cost as spraying the keypads is not as efficient as moulding colours or the use of pre-moulding buttons due to output being lower. If multi colours need to be sprayed then this operation needs to be repeated for each colour and cannot be done in a single process.
Summary
Many customer designs can be adjusted slightly to offer any of the above methods of production. It is always best to design your keypad as required, then send us the design, we can advise what is, and what is not possible, and suggest options to achieve the desired effect.