How to source a custom rubber item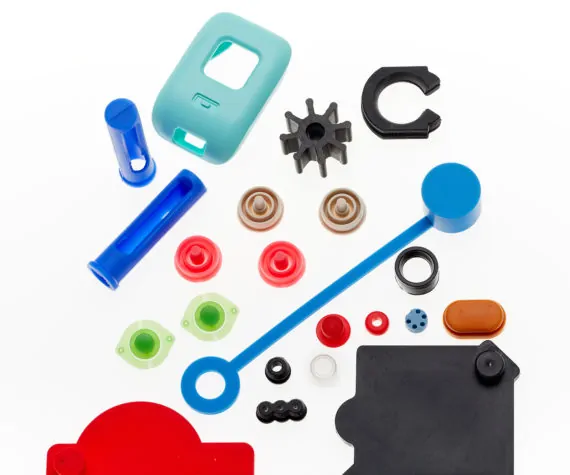 At Rubbertech 2000 we specialise in making bespoke custom rubber items if you want hundreds, tens of thousands or much more.
In many of our specialisms, rubber keypads, for example, there are almost no standard options for OEMs to turn to. Pretty much every keypad is custom and bespoke, so each needs its own mould tooling and various jigs and fixtures for the manufacturing process.
Ideally, you will have a good idea of your likely production volumes because mould tooling and production jigs and fixtures are optimised for a certain throughput. See our article for more information on the numbers of cavities.
If you start with an expected volume of 500 per year and your numbers unexpectedly increase to 10,000 – it can be worth investing in new tooling as it is unlikely you will see a great saving in unit costs in the same tooling, especially if your tooling was only single cavity.
The process of getting going with Rubbertech 2000, producing custom rubber mouldings is not that complex. Ideally, you will send us an engineering drawing, and ideally a 3d step file and an estimate of the volumes of parts you require. You can also send a Non Disclosure Agreement.
Our toolmakers will quote for producing a production tool with as many cavities as your volumes demand. We can also quote for prototyping tools.
We will also quote production unit prices, based on the amount and type of rubber used, the time on the moulding machines and labour costs. Any finishing operations, spraying, printing and or laser etch, we will present this information to you, usually giving you a number of options.
It isn't just keypads that are often bespoke, despite there being standard bellows and gaiters available, many clients need a bespoke custom item. Seals and gaskets are also very often unique.
If you are new to working with Rubbertech 2000 and would like to increase your confidence in us as a prospective supplier, we positively encourage inward visits. You are welcome to visit our factory, chat with the team, have a guided tour and see various rubber items being produced.
To arrange an inward visit, or to open communications with us, call (+44) 01594 826019, use our contact page, or email sales@rubbertech2000.co.uk