Customer owned tooling in rubber moulding manufacturing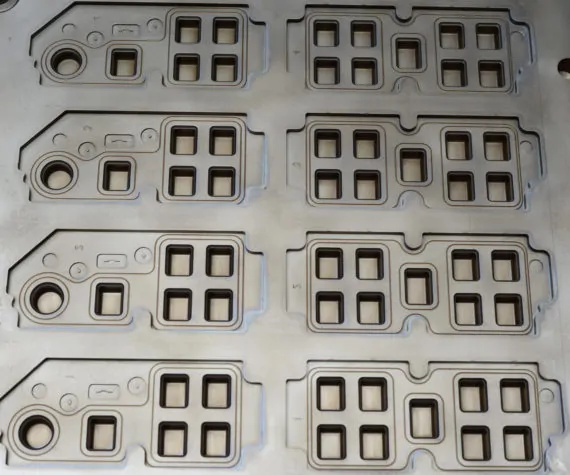 Most rubber mouldings Rubbertech 2000 get involved with are unique, as are the tools in which they are moulded.
It makes sense therefore that a rubber mould tool is customer owned. We only mould a customer's mouldings in their mould tools, we won't mould for anyone else in that tool, and the tool is the critical item required to mould that customer's items.
What are the benefits?
Competitively Priced
When quoting Rubbertech 2000 split our quotes into tooling and material cost elements. Our customers can then compare apples with apples.
When comparing tooling from Rubbertech 2000 to other moulders customers should understand what kind of tooling is being quoted for, e.g. multi-impression, compression, transfer, injection, two or three or more parts, with a core or without etc.
Client Ownership
Our customers own their own mould tools, clients owning tooling with other moulders can move that tooling to Rubbertech 2000, where they can continue moulding customer's parts.
Rubbertech 2000 has no requirement of how many mouldings our customers buy from their tools. If we funded the tooling ourselves, we would likely have to insist on a level of volume to pay back the tooling cost.
Owning tooling outright means you can order whatever volumes of components you wish.
Expert Knowledge
As we are supplying the mould tooling to a price, we warrant that it will work as described. Rubbertech 2000 and our toolmakers spend time checking the design of the mouldings and mould tool before cutting metal, in order to be as sure as we can that the mould tool will work as proposed.
Flexibility
The two key flexibility benefits of customer-owned tools are:
1)    The customer can order whatever quantity of mouldings they wish, without being pressured to buy a quantity that will pay-back the mould tooling during a particular time period.
2)    You can move your mould tool from another moulder to Rubbertech 2000. If the tool was owned by the other moulder, this would not be so easy.