A machinery control panel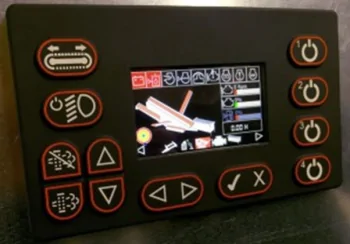 A new customer came to us requiring a durable rubber keypad for use in machinery control panels, due to the operating environment the area most at risk of damage would be the LCD display that the keypad surrounds.
To overcome this potential weak spot in the assembly we decided to make a clear silicone LCD screen cover that would be moulded as part of the keypad.
After several development mouldings and by working closely with our material suppliers we found the correct hardness and correct level of translucency required that allowed the screen to be clearly visible beneath the rubber screen protector.
Once the material specification was approved we looked at how we could produce the keypad with the outer rows of buttons in black and yet still have the centre area clear.
The solution was to mould the keypad and screen in the same clear material, then we over sprayed the rubber black whilst using a high temperature resistant mask adhesive to cover the centre area.
Although this solution worked the final product did have residues of black ink around the edge of the screen area, this due to the adhesive lifting slightly due to heat during oven curing.
To remove any ink residues and ensure the product has a high quality finish we use a laser etching machine to accurately etch the edges of the clear window area.
The keypad is then coated with a clear matt PU spray finish to ensure any inks used during manufacture do not wear over time.